Collection attorney Stephen Gebeloff will be running the NYC Marathon in November to benefit Sloan Kettering as part of Fred's Team. When he is not behind  his desk at his boutique  collection law firm, he is spending many hours out on the road training.
"Life is not all about being a collection attorney"   Gebeloff  explains.  Besides collecting debts and collecting on judgments for his client's , Gebeloff  believes that is is important to give back.  Knowing I can personally help make a difference in the battle against cancer  helps  me run the many miles in preparing for  the marathon.
Gebeloff has been practicing debt collection law for most of his career but,  finds running  to help find a cure  very rewarding.  "In my debt  collection law career I have met many people  and very rarely have a dull day. But, when I'm not collecting debt's, I love to lace up my sneakers and  run with my teammates, most become friends for life."
If you have further questions about  our collection law practice or want to speak to Steve about his running, call or email.   We will devise a debt collection or  running strategy that  is just right for you.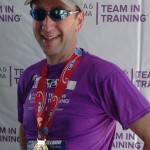 If you would like to support our collection attorney  for his Marathon Run, you may make a tax deductible contribution by  clicking the link below.
Link to Support our Collection Attorney  and Sloan Kettering